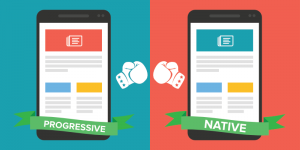 Mobile applications are now central to any brand or business' marketing schemes. It would be very difficult to find a company that hasn't thought about creating a mobile app. Any company would also recognise the significant impact an app has on brand engagement and customer experience.
Given the tremendous impact that an app can have, why do so many brands choose not to give their customers an app experience? The answer is simple; cost. The price of a mobile app is the main reason that many companies, especially small or local businesses, steer clear of mobile applications. But this isn't the only factor. There are plenty of brands that are holding out for the next innovation that can introduce affordable app building. And said innovation is (arguably) here: Progressive Web Apps (PWA).
What is a Progressive Web App (PWA)?
A Progressive Web App is different from the native apps we are all familiar with. PWAs take the capabilities and ease of use from the web and puts them into an app shell for mobile devices. These web-based apps can look and feel the same as a native app, with the ability to house the exact same feature set as native apps.
What excites people about PWAs is that it isn't only businesses without an app that is drooling over this technology as an avenue to place themselves into the world of customer-facing apps. PWAs are also anticipated by brands which already have existing native apps, as they offer an entirely new channel and a unique opportunity to engage and grow the customer experience.
Benefits of Progressive Web Apps
PWAs aren't only worthwhile because it's something new, they also hold a ton of potential. Some of these advantages are vital over their native counterparts. Some of the benefits are:
Responsive design mean the apps can resize and re-shape themselves to any size screen, web browser or device
Sharable and accessible via URL, meaning no download is required and is easily sharable
Significantly faster loading times and no updates required by the user
HTTPS security protocols protect users from malicious hacks and cyber attackers
Similar characteristics, navigation and functionality to native apps
Unhindered by the standards and intervention of App Stores
Consistently engages the audience with push notifications
Much easier and cheaper to develop and produce
Promise Land or False Prophet?
It wouldn't be a bad thought to consider that PWAs may not live up to expectations in the future, but there are multiple factors that would suggest that they are the way. First off, they aren't just a cheaper re-production of native apps, they are a completely new experience that combines the positives of both web and native applications.
Secondly, there is already a large amount of success with PWAs backed by industry giants, even at this early stage of its lifetime. Some examples are:
Twitter Lite: The social media giant developed their PWA in April 2017. The goal of Twitter Lite is to reduce load times and reduce data usage so that users with slow or limited internet connections can still use the app. It was an outstanding success reducing data usage by almost 70% and allowed the user to select what content they viewed.
Flipkart Lite: Flipkart is an India-based e-commerce site and is another industry leader using PWA to reduce data usage and speed up load times. And another success reducing data usage by 300% and also increased e-commerce conversion rates of users using it by a staggering 70%.
Paper Planes: This app makes the list because it shows the potential of Progressive Web Apps. Paper Planes is a game-like app that allows users to throw and catch digital paper planes, with each plane stamped with the location of the user that threw it. When a user catches a plane the location stamp gets added to their collection. There have been over 4.7 million user created "planes".
Most of these early successes have seen astonishing increases in key metrics, which supports the argument for PWAs. There are also some that were left off (such as Washington Post, Trivago and more). The diversity available to app developers gives them the power to make apps for many different types of businesses.
So, what's the catch?
The arguments for the use of PWAs are formidable indeed and provide substantial evidence towards them being a real solution for better, more accessible app experiences. But, its also important to analyse the arguments against Progressive Web Apps.
Whilst they do load faster and use significantly less data, they also don't have the same performance than native apps, which means a couple of feature-rich apps won't quite translate to the native(ish) web experience. However, arguably the biggest argument against PWAs is Apples reluctancy to support them. Whilst they do support PWAs in the App Store, this wasn't until recently and it is more difficult to get a PWA through the App Store than a native app.
PWAs still have some climbing to do, and we certainly have not seen everything that these web apps are capable of yet. This leaves a lot to be discovered and a lot still unknown. The future of PWAs are still unknown and as with all technology, a brand new innovation could always be around the corner. But for PWAs anyway, so far so good.
Conclusion
In a year or two, we could be talking about an entirely new, wonderful and perfect way of experiencing mobile apps. The best we can do is predict the most likely outcome. Based on how industry giants such as Google, Twitter and Forbes are responding to PWAs and developing their own web-based experiences the future is looking very promising for PWAs. The stage looks set for PWAs to break out in 2018 and grow the way users interact with their favourite apps.
Information used in this article kindly provided by App Developer Magazine.